Stencil Material Selection Guide
What painting technique will you use for your project?
| | |
| --- | --- |
|  MATERIAL | USE FOR |
| 125 mil (1/8") - 60 mil (1/16") | Spray painting equipment, parking lots, athletic fields or outdoor uses. |
| 40 mil | Spray paints, aerosol paints, good for smaller numbers, letters, outdoor/indoor. |
| 14 mil* - 7.5 mil | Rolling, brushing applications. Indoor uses. |
| 7.5 mil adhesive | Industrial surfaces for precision painting. Sticks to drums, pipes, buckets. Reusable. Spray or roll. |
| 6 mil vinyl adhesive | One-time use, can be used on walls, easy peel and stick. Brush or roll. |
Note: Some of the larger stencils like hopscotch and shuffleboard can be done with 14 mil using spray due to the total sheet size and overall weight.
How thick is our material?

| | | |
| --- | --- | --- |
|  MATERIAL | MILLIMETERS | INCHES |
| 4 mil | 0.10 mm | 0.004 in |
| 7 mil | 0.18 mm | 0.007 in |
| 6 mil | 0.16 mm | 0.006 in |
| 7.5 mil | 0.19 mm | 0.0075 in |
| 10 mil | 0.26 mm | 0.01 in |
| 14 mil | 0.36 mm | 0.014 in |
| 40 mil | 1.02 mm | 0.04 in |
| 60 mil | 1.54 mm | 0.06 in |
| 125 mil | 1.54 mm | 0.125 in |
---
Not sure what material to choose from? Get a material sample pack

---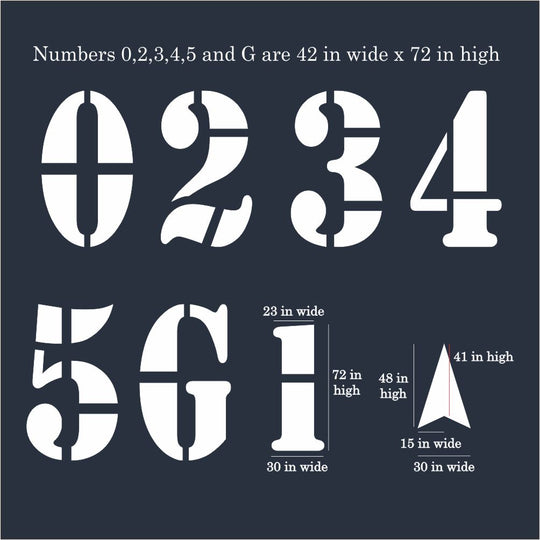 Heavy-Duty 1/8" or 1/16" LLDPE
Uses: field stencils, parking lot stencils, concrete applications when a heavy-weight stencil is needed. These can be used in slightly windy conditions when other materials may blow around. Spray equipment, spray paints, inverted marking paints and landscape chalks can be used with these materials  (note: paint rollers, brushes and stencil brushes are more difficult to use with this thicker material and are not recommended unless you have tested your application and achieved acceptable results).

---
Stencil Ease manufactures industrial grade stencils using LLDPE (Linear low-density polyethylene) plastic.
LLDPE
Stencil Ease is now manufacturing all parking lot stencils, athletic field stencils and many others on a new "super-durable" plastic called LLDPE. Our current stock is 1/8" and 1/16" and results from our core contractor base have been all positive.
OUR NEW LLDPE: (Linear Low-Density Polyethylene)
Can be rolled and flattened out without curl
Sheds paint with ease and won't crack or break
LLDPE has a higher tensile strength than LDPE
LLDPE has a higher impact and puncture resistance than LDPE
Superior stress crack resistance
Superior resistance to chemicals
**If there is any doubt about what material is right for your job or you have any other questions, then please contact one of our customer service representatives at 1-800-334-1776 or 860-395-0150. You can also request a free material sample pack here -http://www.stencilease.com/material-sample.asp
**NOTE: Stencil Ease recycles every ounce of plastic during the manufacturing process. Beginning in 2009, we vowed to keep even the smallest scraps of plastic out of landfills. Today we sort scrap by plastic-type for several plastic recycling centers. These scraps are then converted into new stencil sheets, plastic bottles and a variety of other materials. Read more about the Stencil Ease green initiative Click Here.
---
40 or 60 mil Polypro

Polypro material is a durable and flexible plastic that is great for laser cutting small alphabet stencils, small number stencils or graphic stencils with lots of detail. Polypro stencil plastic can be cleaned and reused many times. It does not shed paint as easily as the LLDPE but can still be cleaned with any chemical. If your stencil contains small letters, numbers or detailed graphics we will cut your stencil on 40 or 60 mil Polypro in order for you to receive the best quality product.
---
Medium-Duty 14 mil = 0.014 inches (0.36 mm)
Uses: this is an extremely durable polyester plastic. It is durable enough to withstand heavy repeated use and multiple cleanings. 14 mil is ideal for use with sprays, paints and industrial inks. This material is not recommended for fine decorative applications when paint is being rolled on.
---
Light-Duty 10 mil = 0.010 inches (0.26 mm)
Uses: for projects that require moderate repeated-use and repeated cleaning of a stencil. The 10 mil stencil material can be used with brushes, rollers, inks and most paints and stains. If you are rolling on your paint, then the 10 mil plastic can work for outdoor use on playgrounds, parking lots, patios, walkways, driveways and concrete surfaces. If you will be using spray paints, inverted marking sprays or landscape chalks, then a thicker material is suggested.
---
Standard Painting Material 7.5 mil = 0.0075 inches (0.19 mm)
Most painting stencils are cut from standard 7.5 mil material; this is a durable, reusable material that is ideal for painting on walls, wood, floors, fabrics and most surfaces. It can be used with any paints, inks or other mediums. Our 7.5 mil stencil material can be cleaned with most paint cleaners, from soap & water and citrus-based cleaners, to paint thinner. The thinner-gauge films will generally create a finer image on your painting surface, without creating an undesirable raised-edge around the cut-outs.
---
Adhesive-Backed Mylar Material 7.5 mil = 0.0075 inches (0.19 mm)
Adhesive-backed, 7.5 mil material, comes with a repositionable, medium-tack backing to secure your stencil in place. This durable, reusable, plastic material can be used on any painted surface, floor, sign, car, boat or craft project. The adhesive-backing assures that paint will not seep under the stencil design if you are using liquid paints, spray paints, inks or other mediums. Additionally, the medium-tack quality of this material will allow you to easily lift the stencil from the surface and reposition it securely onto your surface over and over again. See Tips on how to use this material >
---
Low-Tack Adhesive-Backed Vinyl 6 mil = 0.006 inches (0.16 mm)
Uses: Trucks, boats, walls or any job that requires precision stenciling. Our peel and stick low-tack vinyl can easily be removed from any surface and reapplied. Ideal for air brushing, spraying or rolling applications on clean smooth surfaces.