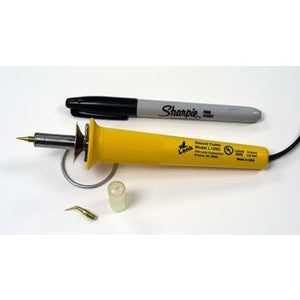 Stencil Cutting Tool
TWB25BTR
Regular price
$5.24
$0.00
Stencil Cutting Tool – 18 Watt 
The cutlass stencil cutting pen tool is a professional grade cutting device specially designed to cut mylar stencils, polyester, acetate and most plastics. It is our recommended method to manually cut 10 mil and 14 mil mylar.  It is the ideal choice for individuals and professionals looking to cut their own stencil shapes, patterns and designs from blank stencil films and resist materials. This tool can be used for hundreds of projects from crafts and hobbies to glass etching, sandblasting, sign painting and other commercial and industrial applications. If you have ever cut stencils using a blade knife or Exacto knife you will quickly see how much quicker (and with far less effort) you can complete projects. 
Proudly made in the U.S.A., this stencil cutting kit features: - One 18-watt stencil cutting pen - Two special purpose cutting tips; one angled tip and one short pointed tip - Edge Remover - 6-foot cord - Convenient resting stand to use when knife is hot 
Replacement Tips are now available for the Stencil Cutting Tool:
Detail instructions come with the stencil cutting kit. The manufacturer offers a 5-year product guarantee.
---
Share this Product
---
More from this collection